NEW LPC-3.GOT.012 7" LCD PLC based HMI Touch Panel
22. 4. 2022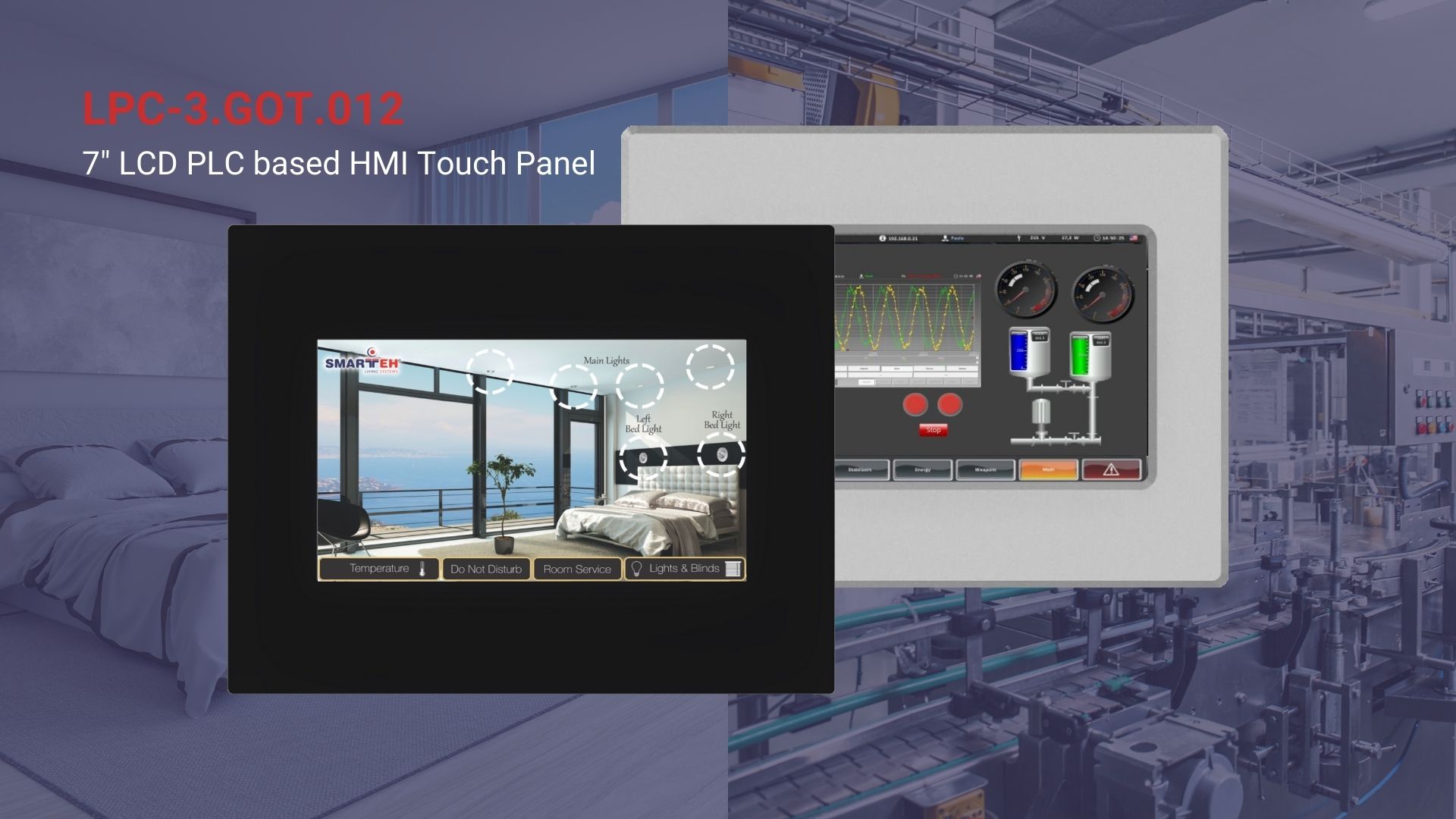 Smarteh's new Programmable Logic Controller (PLC) based 7" capacitive Graphical Operation Terminal is an innovative combination of classic PLC and Human Machine Interface (HMI).
New HMI offers high performance in any industrial or building automation environment and provides a clear, customizable, and flexible interface between the user and the machine or automation system.
Bellow, we listed only some of the features and advantages of our LPC-3.GOT.012:
➢ All-in-one PLC + HMI
PLC based HMI Touch Panel with powerful i.MX6 Single (ARM® Cortex™ – A9) @ 1GHz CPU.
➢ Remote access by mobile or desktop devices
Remote HMI feature of Touch Panel on any device using Web browser as VNC server alternative.
➢ Extended communication possibilities
Ethernet connectivity with Modbus TCP/IP Slave (server) and/or Master (client) functionality, BACnet IP (B-ASC), web client with SSL support, Modbus RTU Master or Slave.
➢ Powerful programming IDE tool
Advanced Smarteh IDE PLC & GUI free remote programming and debugging tool.
PLC programming by standard IEC61131-3 (FBD, LD, SFC, ST, IL) and Python.
➢ Ready for IoT cloud server connection
In addition user-programmable code possibilities in Python programming language as RESTful API, SQL, time server, Webpage data exchange, sending E-mails, FTP, …
Send us an inquiry on sales@smarteh.si
LPC-3. GOT.012 presentation:
https://www.smarteh.com/wp-content/uploads/2020/12/new-lpc-3-got-012-7e280b3-lcd-plc-based-hmi-touch-panel.pdf
LPC-3. GOT.012 video:
https://youtu.be/v7r7xPjhe-E
LPC-3.GOT.012 User manual can be found on the following webpage:
https://www.smarteh.com/wp-content/uploads/2020/12/226got17012001_lpc3_got-012_usrman.pdf