NEW LBT-1.BA1 Bluetooth Mesh thermostatic radiator and floor heating valve actuator (TRV)
26. 4. 2023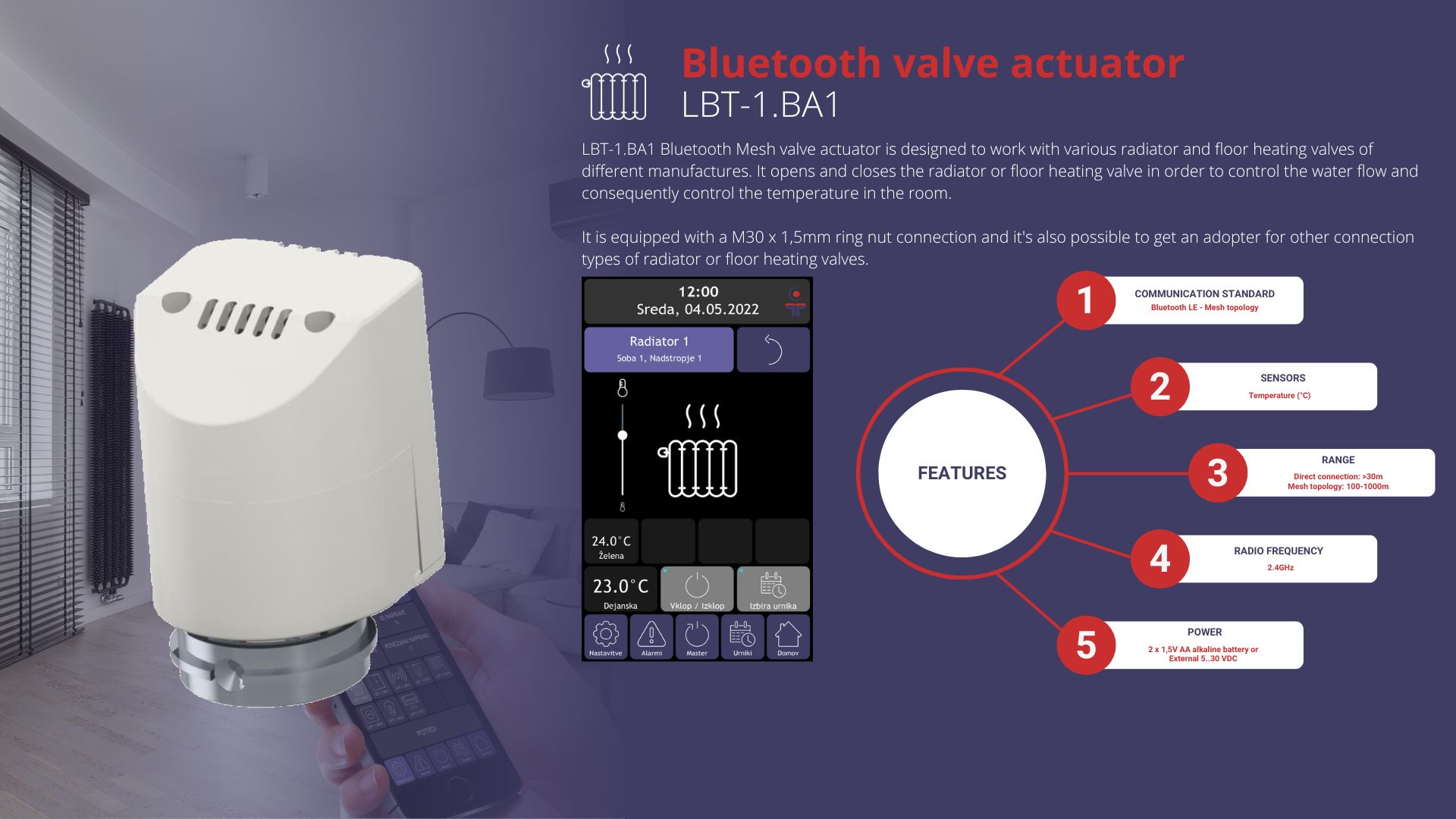 LBT-1.BA1 Bluetooth Mesh valve actuator is designed to work with various radiator and floor heating valves of different manufacturers. It opens and closes the radiator or floor heating valve in order to control the water flow and consequently control the temperature in the room. It is equipped with an M30 x 1,5mm ring nut connection and it's also possible to get an adapter for other connection types of radiator or floor heating valves.
LBT-1.BA1 valve actuator can only operate with Smarteh LBT-1.GWx Modbus RTU Bluetooth Mesh gateway connected to the same Bluetooth Mesh network. LBT-1.GWx Modbus RTU gateway is connected to the main control device as Smarteh LPC-3.GOT.012 7″ PLC based Touch panel, any other PLC or any PC with Modbus RTU communication. Besides Smarteh Bluetooth Mesh devices, other standard Bluetooth Mesh devices can be integrated into above mentioned Bluetooth Mesh network. More than a hundred Bluetooth Mesh devices can be provisioned and can operate in a single Bluetooth Mesh network.
However, the LBT-1.BA1 valve actuator can also work stand-alone in local operation mode. In addition, protection functions like anti-freeze can be set.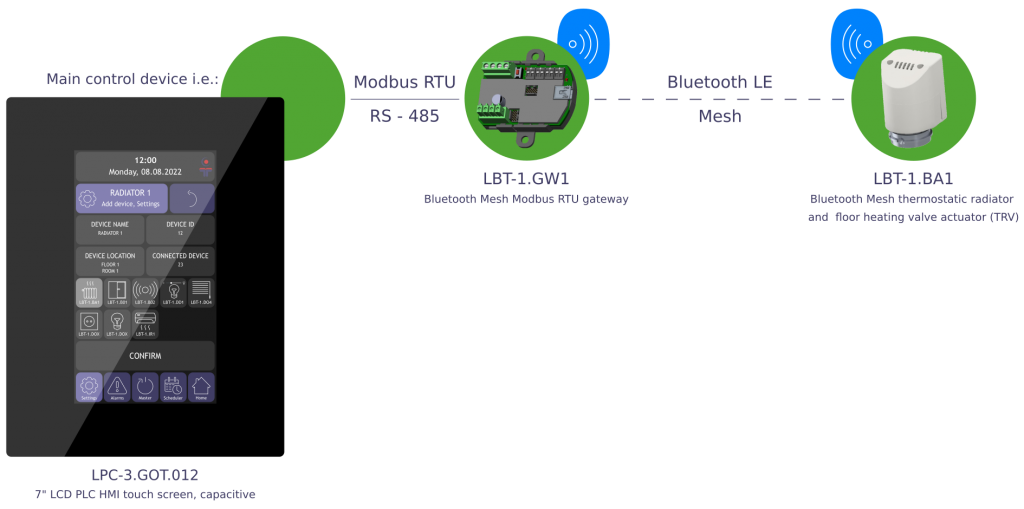 LBT-1.BA1 user manual:
https://www.smarteh.com/wp-content/uploads/2021/05/245ba121001001_lbt1_ba1_usrman.pdf
LBT-1 Bluetooth Mesh solution presentation:
https://www.smarteh.com/wp-content/uploads/2020/12/smarteh-lbt-1-bluetooth-mesh-solution.pdf
LBT-1 Bluetooth Mesh video presentation:
https://youtu.be/GH7MFFOPVN4
LBT-1 Bluetooth dedicated modules:
https://www.smarteh.com/products/building-automation-product-line/lbt-1-bluetooth-products/bluetooth-dedicated-modules/
LBT-1 Bluetooth products overview:
https://www.smarteh.com/products/building-automation-product-line/lbt-1-bluetooth-products/
We welcome your inquiries at sales@smarteh.si